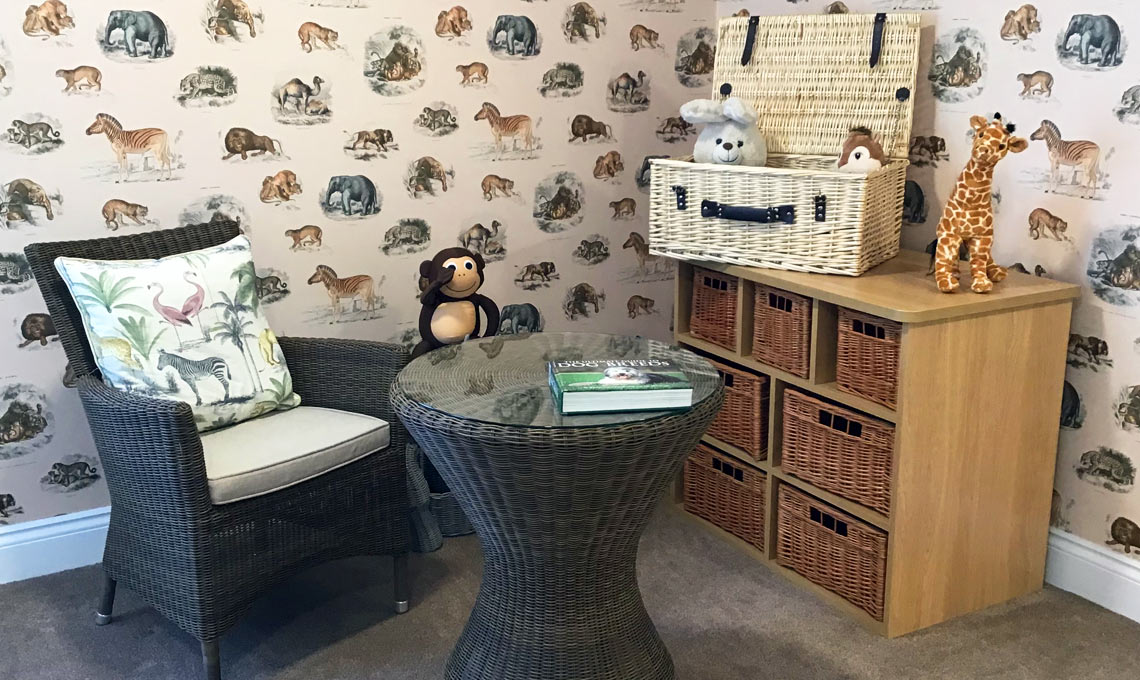 Horton Road, Ashley Heath, BH24 2EE
---
For more information, please call us on:
---
01425 481220
---
We are safely able to support new residents. For more information, please speak with the Home Manager or fill out an enquiry form.
St Ives House is set in stunning scenery on the edge of the New Forest National Park and near to the market town of Ringwood.
The relaxed, modern care home is surrounded by picturesque woodland. Balconies, lounges and courtyards overlook the woodland walks and beautifully landscaped gardens.
Facilities
St Ives House has 60 well-appointed bedrooms, all with their own en-suite facilities and rooms available for couples. There is an on-site hair salon and cafe. Support can be provided for health and well-being appointments.
We know looking for a care home can be a difficult process, but you are not alone. Please fill out an enquiry form or give us a call and we would be happy to guide you through the process. We can also answer any questions and talk you through life at St Ives Country House.
We have adapted our admissions process to meet the challenges of COVID-19 and help new and existing residents stay safe. You can find out more about these changes in our Assisi Admissions Plan by clicking here.
St Ives House is not just a home for your later years, it's a place to enjoy life in a supported and social way. Whether you would like to take a stroll around the woodland walk, enjoy the views on the balcony, or welcome special guests in the lounge, our activities team create varied and engaging daily activity programmes centred around the interests of residents.
There is also a Tovertafel 'Magic Table' to support residents living with dementia. The award-winning innovation from the Netherlands has been designed to help those at a later stage in their dementia journey be more active, social and engaged.
The Daily Sparkle
We are also supported by The Daily Sparkle, a newspaper and app featuring news stories from the past and familiar activities. Using these resources has opened up conversations for our less sociable residents, who reveal the smaller details of their lives, allowing carers to get to know residents on a close, personal level. Click here to find out more.
Look below for some of the things we have been up to recently.
"I'm passionate about preparing flavoursome, nutritious and well-presented meals. I also specialise in cakes and cooking dysphasia meals for residents with swallowing difficulties." – Patrick Fensterseifer, St Ives House chef
Meals are more than just the food on the plate, they bring people together. At St Ives House, residents meet for meal times in our relaxed and comfortable dining rooms, with wholesome, well-balanced meals.
We talk to residents to help create flexible menus around their likes and needs, also working within any special dietary requirements. Snacks and afternoon teas are also available to residents.
Emma Cotton – Home Manager
I'm Emma and I'm the very proud manager of St Ives House. I have worked with Care South for over 20 years, managing a number of their care homes in Dorset. My earliest memories of wanting to be a carer come from my childhood; Mum was a carer and it was great meeting her colleagues and being there with the residents.
I believe in a loving, caring environment for our residents; there is nothing better than spending my days with them and hearing about their life experiences, they constantly amaze me. I love my job because no two days are the same at St Ives House.
Although we can't welcome you for a look around our care homes just yet, you can still view inside thanks to our remote tours.
To ensure our care homes remain free from COVID-19, our helpful Home Managers can guide you around during a video call, so you get a feel of what life is like with Care South.
Simply fill out the form below and we will be in touch to discuss how we can create a new home for you or a loved one with peace of mind.
Horton Road, Ashley Heath, BH24 2EE
See home on map
---
For more information, please call us on:
---
01425 481220
---